Yelisei
Born in
Perekop
Found in
A random town
Hire cost
300 thalers
Likes
Liked by
Dislikes
Disliked by
Disapproves (aristocratic)
Disapproves (honest)
Yelisei is one of the Heroes in With Fire & Sword. He likes Victor De La Buscador, dislikes Ingri, is liked by Sarabun, is disliked by Nogai, and disapproves of retreating, failing quests and using the collected money of Collect debt from lord. Yelisei is similar to Artimenner and Firentis of the previous games.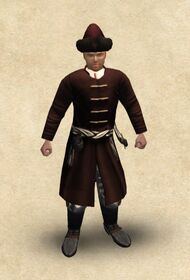 "Wine, vodka or schnapps -- it is my weakness. Just one little sip, and my body starts to itch."
"My name is Yelisey. I am the fourth son of the Ryazan noble Skiba. From the cradle, my father prepared me for the duty of a warrior. I learned to ride, to shoot with pistols, and to fence."
Stats and equipment
Edit
Yelisei - Default Stats and Equipment
Attributes

| Stat | Points |
| --- | --- |
| Level | 5 |
| Strength | 8 |
| Agility | 9 |
| Intelligence | 12 |
| Charisma | 8 |
| Health | 43 |
Skills

| Skill | Points |
| --- | --- |
| Ironflesh | 0 |
| Power Strike | 0 |
| Grenade Throwing | 0 |
| Power Draw | 0 |
| Weapon Master | 0 |
| Shield | 0 |
| Athletics | 2 |
| Riding | 4 |
| Shooting from Horseback | 0 |
| Looting | 0 |
| Trainer | 0 |
| Tracking | 0 |
| Tactics | 0 |
| Path-finding | 0 |
| Spotting | 0 |
| Inventory Management | 0 |
| Wound Treatment | 0 |
| Surgery | 0 |
| First Aid | 0 |
| Engineer | 4 |
| Persuasion | 0 |
| Prisoner Management | 0 |
| Leadership | 0 |
| Trade | 0 |
Proficiencies

| Weapon Type | Points |
| --- | --- |
| One Handed Weapons | 70 |
| Two Handed Weapons | 70 |
| Polearms | 70 |
| Archery | 70 |
| Firearms | 70 |
| Throwing | 70 |