Volunteer (veteran)

Culture

Polish Commonwealth

thaler

Upgrades To...

No Further Upgrades

Upgrade Cost

Exp For Kill
The volunteer has relatively poor stats and weaponry, but their dragoon-like ability with their carbine on a horse allows relative tactical ability to be unlocked by an intermediate commander. They are cheap to upkeep but will be outmatched by anything that isn't a party of foragers.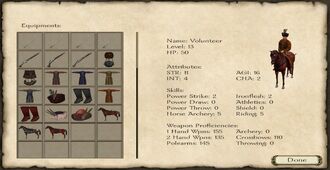 Ad blocker interference detected!
Wikia is a free-to-use site that makes money from advertising. We have a modified experience for viewers using ad blockers

Wikia is not accessible if you've made further modifications. Remove the custom ad blocker rule(s) and the page will load as expected.