Victor De La Buscador
Found in
A random town
Hire cost
500 thalers
Likes
Liked by
Dislikes
Disliked by
Disapproves (honest)
Victor De La Buscador is a Spanish conquistador and one of the Heroes in With Fire & Sword. He likes Tepes, dislikes Karlsson and Sarabun, is liked by Varvara and Yelisei, is disliked by Oksana, and disapproves of failing quests and using the collected money of Collect debt from lord. You can hire him for 500 thaler. He is similar to Lezalit of the previous games.
Note: Even if you don't want him, it is recommended to hire this companion to steal his helmet (morion) as it has +31 Head armor points which is worth more than his hiring cost.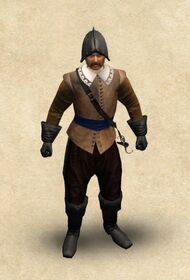 "I am the heir of an ancient house, the roots of which stretch from the Old and New World alike. Buscadors fought in just about every war since the Reconquista."
"I came here on the invitation of Prince Radziwill. First I served in his body-guard regiments, then in an infantry party. We distinguished ourselves on the field of battle. The Prince even considered giving me command of a regiment..."
"As the French say, cherchez la femme. I met a beautiful Kiev pani around here, so I left service at once and took a mansion for rent, where we wiled away our days. Three months went by in an instant. But then my money ran out, and the master put me out of the mansion -- and the pani quickly went off with a fur trader who was happening by."
Victor's name translated would mean "Victor of the Buscador", or Victor of the House of Buscador, as he implies. However, "La" denotes that Buscador would be a feminine word, which it is not. It may have been intended to say "Victor de la Casa Buscador" which would make sense (Victor of the House of Buscador).
The correct plural of "buscador" should be "buscadores" (searchers, seekers) and not "buscadors" as his dialogue states.
Stats and equipment
Edit
Victor De La Buscador - Default Stats and Equipment
Attributes

| Stat | Points |
| --- | --- |
| Level | 8 |
| Strength | 10 |
| Agility | 8 |
| Intelligence | 12 |
| Charisma | 14 |
| Health | 45 |
Skills

| Skill | Points |
| --- | --- |
| Ironflesh | 0 |
| Power Strike | 0 |
| Grenade Throwing | 0 |
| Power Draw | 0 |
| Weapon Master | 4 |
| Shield | 0 |
| Athletics | 0 |
| Riding | 2 |
| Shooting from Horseback | 0 |
| Looting | 0 |
| Trainer | 2 |
| Tracking | 0 |
| Tactics | 4 |
| Path-finding | 0 |
| Spotting | 0 |
| Inventory Management | 0 |
| Wound Treatment | 0 |
| Surgery | 0 |
| First Aid | 0 |
| Engineer | 0 |
| Persuasion | 0 |
| Prisoner Management | 0 |
| Leadership | 2 |
| Trade | 0 |
Proficiencies

| Weapon Type | Points |
| --- | --- |
| One Handed Weapons | 145 |
| Two Handed Weapons | 125 |
| Polearms | 135 |
| Archery | 0 |
| Firearms | 0 |
| Throwing | 0 |