Veluca

Type

Kingdom

Ladders

Port

No
Veluca is one of the Towns of the Kingdom of Rhodoks. It is Initially held by Count Matheas at the start of the game.
According to Ymira, Veluca has hot, dry summers and cool, wet winters, suggesting a Mediterranean climate in the valley in which the town is located. She also says that Veluca is a paradise frequently mentioned by poets.
Veluca is apparently renowned for its wine.
Territory
Edit
Mount&Blade
Edit
Its villages are Chaeza, Emer, Fedner, Ilvia, and Ruldi.
Its villages are Chaeza, Emer, Fedner, and Sarimish.
You can besiege Veluca with siege ladders.
Tournaments
Edit
When you participate in tournaments held in Veluca, you can receive the following equipment:
Heavy Sword
Lance & Shield
Sword & Shield
Crossbow & Bolts, Sword
Bow & Arrows, Dagger
Not all participants are on horses.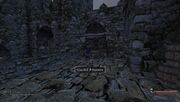 Veluca exports wine and grapes. It is a good location to buy an oil press and sell furs.
Veluca produces:
The Guild Master for Veluca is located behind and to the right of the player, up a small set of stairs when 'Take a walk around the streets' is selected.