Urumuda Noyan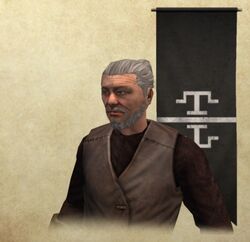 Urumuda Noyan is initially a vassal in the Khergit Khanate under the rule of Sanjar Khan. He is the most lightly armored lord in the game, wearing the same clothes in battle as he does when resting in his keep.
You may fight him or have him side with you if you help Dustum Khan, the claimant of Khergit Khanate and Sanjar's brother, to gain control of the Khanate.
His banner resembles the flag of the Crimean Tatar people. The Crimean Khanate later appeared in With Fire & Sword.
Spouse: Lady Yasreen
Children: Akadan Noyan, Lady Nadha

Note: Certain aspects of most NPCs are randomly generated at the beginning of every new game. These include all family lines other than parents, children, or siblings; personalities; and initial fief ownership.
Stats and equipment
Edit
Urumuda Noyan - Default Stats and Equipment
Attributes

| Stat | Points |
| --- | --- |
| Level | 26 |
| Strength | 16 |
| Agility | 16 |
| Intelligence | 10 |
| Charisma | 18 |
| Health | 57 |
Skills

| Skill | Points |
| --- | --- |
| Ironflesh | 3 |
| Power Strike | 4 |
| Power Throw | 0 |
| Power Draw | 4 |
| Weapon Master | 0 |
| Shield | 0 |
| Athletics | 2 |
| Riding | 4 |
| Horse Archery | 0 |
| Looting | 0 |
| Trainer | 0 |
| Tracking | 0 |
| Tactics | 3 |
| Path-finding | 0 |
| Spotting | 0 |
| Inventory Management | 0 |
| Wound Treatment | 0 |
| Surgery | 0 |
| First Aid | 0 |
| Engineer | 0 |
| Persuasion | 0 |
| Prisoner Management | 2 |
| Leadership | 5 |
| Trade | 0 |
Proficiencies

| Weapon Type | Points |
| --- | --- |
| One Handed Weapons | 160 |
| Two Handed Weapons | 160 |
| Polearms | 160 |
| Archery | 160 |
| Crossbows | 160 |
| Throwing | 160 |