Tulug Noyan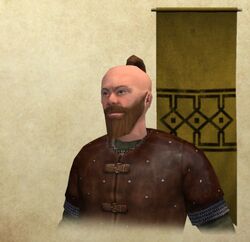 Tulug Noyan is initially a vassal in the Khergit Khanate under the rule of Sanjar Khan.
You may fight him or have him side with you as you help Dustum Khan, the claimant and Sanjar's brother, gain control of the Khanate.
He wears the Brown Tourney Armour, which is only avaliable to the player through the cheat menu.
Siblings: Lady Hindal

Note: Certain aspects of most NPCs are randomly generated at the beginning of every new game. These include all family lines other than parents, children, or siblings; personalities; and initial fief ownership.
Ad blocker interference detected!
Wikia is a free-to-use site that makes money from advertising. We have a modified experience for viewers using ad blockers

Wikia is not accessible if you've made further modifications. Remove the custom ad blocker rule(s) and the page will load as expected.