Sumbuja

Type

World Map
Sumbuja is a village initially owned by the Kingdom of Vaegirs.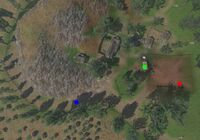 The
Village Elder
is located in the middle of the village, standing aside some tables under a roof.
Sumbuja is built next to a large hill with the path to the village encircling it and trees positioned decoratively along it, in addition to moderate natural foliage. It has a total of five structures. There are some fields here growing Wheat, Cabbages, and squash. Bread and a basket of marrows may also be found. A notable feature is a sizable, but mostly empty pit surrounded on most sides by fences.
If sent here during a Hunt down fugitive quest, the target may be found on the far side of the pit from where the player enters.
Ad blocker interference detected!
Wikia is a free-to-use site that makes money from advertising. We have a modified experience for viewers using ad blockers

Wikia is not accessible if you've made further modifications. Remove the custom ad blocker rule(s) and the page will load as expected.