Sultan Hakim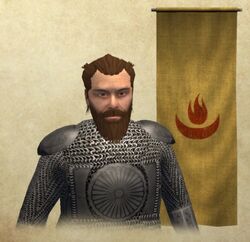 Sultan Hakim is the ruler of the Sarranid Sultanate and initial lord of Shariz. He usurped Arwa the Pearled One's claim to rule; she was intended to become the next ruler of the Sarranid Sultanate as the Sarranid nobles saw her fit for her to rule the throne, being the favorite slave of the previous Sultan, Sultan Ayzar, for she was beautiful and intelligent. The nobles of the Sarranid Sultanate allowed her to rule on the condition that she marry general Baybek, a Sarranid noble. Hakim's claim was to prevent tyranny and civil war with the belief that having a woman on the throne would cause too much discord. His right to rule was backed up by the fact that he was the nephew of general Baybek, Arwa's co-ruling husband, whilst Arwa was merely an adopted daughter from the slave market. Sultan Hakim's accusations of Arwa went as far as calling her a witch, who had presumably enchanted her husband and the former Sultan into having favorable feelings for her. After general Baybek was killed in a skirmish, Hakim was able to manipulate the lords and force himself onto the Sarranid throne.
Sultan Hakim is relatively generous as ruler, so as long as he keeps hold of his fief, Shariz, he does not keep excessive fiefs for himself. He will not usually be swayed by the opinions of others, meaning if you want a fief, it is best to speak to Sultan Hakim directly.
The name ḥākim (حكيم) means "wise" in Arabic.
Stats and equipment
Edit
Sultan Hakim - Default Stats and Equipment
Attributes

| Stat | Points |
| --- | --- |
| Level | 35 |
| Strength | 19 |
| Agility | 19 |
| Intelligence | 13 |
| Charisma | 22 |
| Health | 64 |
Skills

| Skill | Points |
| --- | --- |
| Ironflesh | 6 |
| Power Strike | 7 |
| Power Throw | 0 |
| Power Draw | 0 |
| Weapon Master | 0 |
| Shield | 0 |
| Athletics | 5 |
| Riding | 7 |
| Horse Archery | 0 |
| Looting | 0 |
| Trainer | 5 |
| Tracking | 0 |
| Tactics | 6 |
| Path-finding | 0 |
| Spotting | 0 |
| Inventory Management | 0 |
| Wound Treatment | 0 |
| Surgery | 0 |
| First Aid | 0 |
| Engineer | 0 |
| Persuasion | 0 |
| Prisoner Management | 3 |
| Leadership | 9 |
| Trade | 0 |
Proficiencies

| Weapon Type | Points |
| --- | --- |
| One Handed Weapons | 220 |
| Two Handed Weapons | 220 |
| Polearms | 220 |
| Archery | 220 |
| Crossbows | 220 |
| Throwing | 220 |