Stepan Razin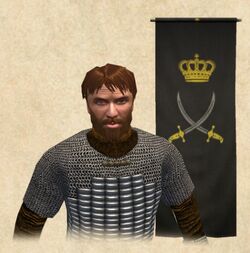 Stepan Razin is a claimant to the throne of the Muscovite Tsardom.
Although Stepan has no real claim to the throne, he says he wants it because Mikhailovich did not reward him well when he was in his service.
He is based on a real person who lead a sizable rebellion in southern Russia around 1670, capturing Cherkassk, Tsaritsyn (now Volgograd), and even Astrakhan, Moscow's "window on the East".
His real name was Stepan (Sten'ka) Timofeyevich Razin.
Razin is first noted in history in 1661, when he was part of a diplomatic mission from the Don Cossacks to the Kalmyks.
Historian Paul Avrich characterizes Razin's revolt as "a curious mixture of brigandage and revolt", due to his initial plan of looting villages, but then he becoming a symbol of peasant unrest which turned his movement political.
Ad blocker interference detected!
Wikia is a free-to-use site that makes money from advertising. We have a modified experience for viewers using ad blockers

Wikia is not accessible if you've made further modifications. Remove the custom ad blocker rule(s) and the page will load as expected.