Shapeshte

Type

World Map
Shapeshte is a village initially owned by the Kingdom of Vaegirs.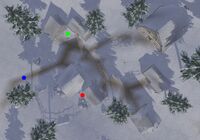 The
Village Elder
is located mostly straight forward from where the player enters, on the left side of the path by a campfire and some barrels.
Shapeshte is built on uneven terrain with hills and valleys all around it as well as scattered clusters of pine trees. It has a total of seven structures. There appear to be two snow covered fields here, one empty and the other with what are most likely mounds of refuse left over from harvest.
If sent here during a Hunt down fugitive quest, the target may be found to the right from where the player enters, in the field behind the buildings.
Ad blocker interference detected!
Wikia is a free-to-use site that makes money from advertising. We have a modified experience for viewers using ad blockers

Wikia is not accessible if you've made further modifications. Remove the custom ad blocker rule(s) and the page will load as expected.