Ruvar

Type

World Map
Ruvar is a village of the Kingdom of Nords.
When the Nords are at war with the Vaegirs, Ruvar is constantly looted.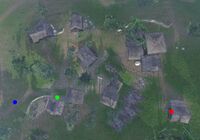 The
Village Elder
is located just inside the village from where the player enters, on the right side of the path, standing in front of the first building next to a bench.
Ruvar is built in a hilly region, with many low hills as well as a large number of trees all around. It has a total of eight structures, one at the top of a hill also boasting a tower. There are several fields here growing cabbages and squash, there are also some fenced-in trees which are most likely apple trees, with fruit baskets nearby supporting this, but no apples can been seen on the trees.
If sent here during a Hunt down fugitive quest, the target may be found standing on the porch of a small shack positioned on the far side of the village from where the player enters, near the tower.