Reveran

Type

World Map
Reveran is one of the villages initially owned by the Kingdom of Rhodoks.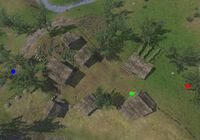 The
Village Elder
is located through the village to the building farthest from where the player enters, next to some barrels.
Reveran is set on the side of a steep hill in very uneven terrain with a small stream below and a moderate number of trees. It has a total of seven structures and many pole fences throughout. Two distinct fields can be found growing cabbages, grapes, squash, and some sort of shrubs, though numerous stacks of straw and fences suggest more fields may have already been harvested. There are several oil jugs present here as well.
If sent here during a Hunt down fugitive quest, the target may be found on the opposite side of the village from where the player starts, under a tree.