Priest Spasokukotsky
Born in
Krakov
Found in
A random town
Hire cost
Free
Likes
Liked by
Disliked by
Disapproves (egalitarian)

heavy losses
unpaid wages
starvation

[*] bugged, the actions have a positive effect
Priest Spasokukotsky is one of the Heroes in With Fire & Sword. He likes Nogai, is liked by Karlsson, is disliked by Tepes, and disapproves of heavy losses, unpaid wages, starvation and retreating. You can hire him for free. His personality is strangely similar to Borcha.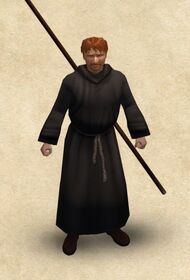 "For a while I am... How should I say... I have ceased to take up the holy orders."
"I am the priest Spasokukotsky. The bishop of Riga gave me a small village parish, but within the week he sent his sacrist there to check how well I was fulfilling my duties. After the Sunday mass this bore came to my humble cell. First he inquired what a parish woman was doing in my bed, and then had the gall to start preaching to me. He explained that one should not spin the censer over one's head during the sermon -- and I endured his condescension well enough. He said that prayers should be concluded by the word Amen, and not by the word I spoke at the end, and still I remained silent. The parish loved my way of doing things, you understand! But then, when he began to shout that he saw goods from my Church being sold at the Riga market, I could no longer stand it any longer, and beat him with a staff so hard he barely made it out alive."
"Learning of this, the bishop sent a mercenary band to deal with me. I did not wait for them to come, but took my belongings and fled to the woods. Soon I found out I had been defrocked and excommunicated by the bishop."
Stats and equipment
Edit
Priest Spasokukotsky - Default Stats and Equipment
Attributes

| Stat | Points |
| --- | --- |
| Level | 5 |
| Strength | 8 |
| Agility | 6 |
| Intelligence | 15 |
| Charisma | 6 |
| Health | 43 |
Skills

| Skill | Points |
| --- | --- |
| Ironflesh | 0 |
| Power Strike | 0 |
| Grenade Throwing | 0 |
| Power Draw | 0 |
| Weapon Master | 0 |
| Shield | 0 |
| Athletics | 0 |
| Riding | 1 |
| Shooting from Horseback | 0 |
| Looting | 2 |
| Trainer | 0 |
| Tracking | 0 |
| Tactics | 0 |
| Path-finding | 0 |
| Spotting | 0 |
| Inventory Management | 0 |
| Wound Treatment | 1 |
| Surgery | 1 |
| First Aid | 2 |
| Engineer | 0 |
| Persuasion | 0 |
| Prisoner Management | 0 |
| Leadership | 0 |
| Trade | 2 |
Proficiencies

| Weapon Type | Points |
| --- | --- |
| One Handed Weapons | 50 |
| Two Handed Weapons | 50 |
| Polearms | 50 |
| Archery | 50 |
| Firearms | 50 |
| Throwing | 50 |