Oil

Base Value

Weight

50.0

Food Quantity

50

+0

Spoils

No

Made From...

Made Into...

N/A
Oil is a moderately high-value, non-consumable trade good found in all three Mount&Blade games.
In Warband, oil is the product of an oil press, which requires olives. Oil is needed to light lamps at feasts in Warband.
Oil can be bought cheaply at Suno.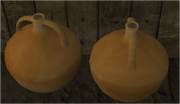 Ad blocker interference detected!
Wikia is a free-to-use site that makes money from advertising. We have a modified experience for viewers using ad blockers

Wikia is not accessible if you've made further modifications. Remove the custom ad blocker rule(s) and the page will load as expected.