Mechin

Type

World Map
Mechin is a village initially owned by the Kingdom of Vaegirs in Mount&Blade and the Kingdom of Nords in Warband.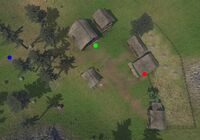 The Village Elder is located in front of the first building from where the player enters, standing next to a long bench.
Mechin is built in a mountainous area, there are also several scattered tall trees. It has a total of six structures. There is a single field here growing Wheat in half of it while some piles, which may be straw from already harvested wheat, occupy the other half. A single Apple tree next to the field is the only other visible food in the village, though there is a very large number of closed barrels found throughout.
If sent here during a Hunt down fugitive quest, the target may be found next to the field, standing by a small bench.