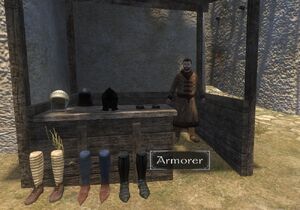 Marketplaces can be found in all Towns, as well as Fortresses in With Fire & Sword.
You can either visit the marketplace through the menu when you enter the town, or choose to walk around the streets where you may personally visit each merchant.
There are five options you can perform through the menu:
Your relation with the town can have a small effect on purchase prices. For every 3 relation, you will receive a bonus price reduction of .5% up to a maximum of 16.5% with 99 relation.
Every 24 hours (168 hours in Viking Conquest), the game checks to see how much money the merchants have available. Each one has a set target they should have, and if their current wealth falls below this target, they will be given a random increase every day until they surpass the target.
Merchant
Target Wealth
Increase Amount
Arms
900
1000
1000
 ?
200-400
250-500
250-500
 ?
Armor
1500
1500
1500
 ?
500-1000
500-1000
500-1000
 ?
Horse
600
600
1000
600
200-400
250-500
250-500
1000-4000
Goods
900
1000
1000
1500
200-400
250-500
250-500
1000-4000
Ad blocker interference detected!
Wikia is a free-to-use site that makes money from advertising. We have a modified experience for viewers using ad blockers

Wikia is not accessible if you've made further modifications. Remove the custom ad blocker rule(s) and the page will load as expected.