Lethwin Far-Seeker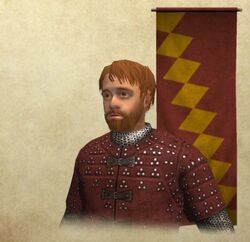 Lethwin Far-Seeker is initially the claimant to the throne of the Kingdom of Nords. According to the game lore, he is named 'Far-Seeker' because he has traveled much and seen many things in search of knowledge. In addition to being a university student viewed by King Ragnar as being too weak to hold the throne, it is possible for the player to take up his cause and overthrow the king.
However, Ragnar counters Lethwin's claim, saying that while he would probably make a decent lord in a different kingdom, the Nords respect strength above all else. He argues that the Nordic thanes would not respect Lethwin, and would fight amongst themselves to overthrow him, leaving the whole realm vulnerable to attack. He also states that the Nords should have a warrior as a king, not a scholar.
Ad blocker interference detected!
Wikia is a free-to-use site that makes money from advertising. We have a modified experience for viewers using ad blockers

Wikia is not accessible if you've made further modifications. Remove the custom ad blocker rule(s) and the page will load as expected.