Lady Isolla of Suno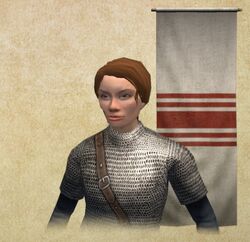 Lady Isolla of Suno is a claimant to the throne of the Kingdom of Swadia. She was the only child of King Esterich who had named her as his heir. Isolla claims that he had named her many times, in front of nobles and lords, and it was quite common in Swadia for rulers to be female. In fact, the most famous Swadian rulers were female. However, her father's cousin Harlaus took the throne, protesting that only a madman could name a woman as an heir.
Harlaus counters by stating that the kingdom needs a strong leader to protect its people, and while there are stories about Swadian warrior queens, they all end with the Swadian army crushed, and its people broken. He invites the player to discuss stories about princesses when Swadia's enemies have been vanquished and its people are safe. This, however, is not possible, as if Swadia takes over the entirety of Calradia, Isolla will have left Calradia.
Ad blocker interference detected!
Wikia is a free-to-use site that makes money from advertising. We have a modified experience for viewers using ad blockers

Wikia is not accessible if you've made further modifications. Remove the custom ad blocker rule(s) and the page will load as expected.