Lady Endegrid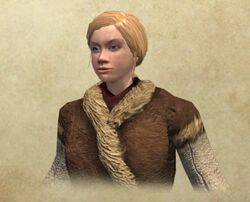 Lady Endegrid is a 19 year old noblewoman initially with the Kingdom of Nords.
Parents: Jarl Turya, Lady Hild
Siblings: Jarl Marayirr

Note: Certain aspects of most NPCs are randomly generated at the beginning of every new game. These include all family lines other than parents, children, or siblings; personalities; and initial fief ownership.
Ad blocker interference detected!
Wikia is a free-to-use site that makes money from advertising. We have a modified experience for viewers using ad blockers

Wikia is not accessible if you've made further modifications. Remove the custom ad blocker rule(s) and the page will load as expected.