Jarl Hrodulf Haraldsson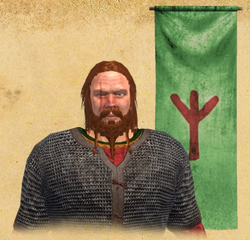 Jarl Hrodulf Haraldsson is a character in Viking Conquest. He is initially a vassal of the Kingdom of Friese. Hrodulf Haraldsson starts as the lord of Kennemer.
In the story mode, you start out working for him, but he ends up betraying you by helping Sven Bull-Neck, the man you believe to have killed your mother.
Uncle: Konungr Hrorek Hemmingsson