Imad-pasha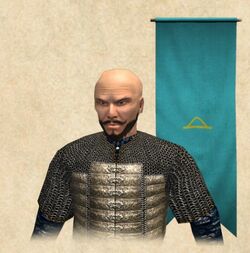 Imad-pasha is initially a vassal of the Crimean Khanate.
He begins the game as ruler of Azaq-kale.
He is married to Nadira.
Stats and equipment
Edit
Note: Troops have a set of default stats; at the beginning of a new game, these stats are randomly adjusted for each type of troop. The following is the default set for this troop as seen within the game code and may not reflect the specific stats you will see during actual gameplay. For more information, see Troop stats.
Imad-pasha - Default Stats and Equipment
Attributes

| Stat | Points |
| --- | --- |
| Level | 30 |
| Strength | 18 |
| Agility | 17 |
| Intelligence | 12 |
| Charisma | 20 |
| Health |  ? |
Skills

| Skill | Points |
| --- | --- |
| Ironflesh | 4 |
| Power Strike | 5 |
| Grenade Throwing | 0 |
| Power Draw | 3 |
| Weapon Master | 7 |
| Shield | 0 |
| Athletics | 3 |
| Riding | 5 |
| Shooting from Horseback | 3 |
| Looting | 0 |
| Trainer | 0 |
| Tracking | 0 |
| Tactics | 4 |
| Path-finding | 0 |
| Spotting | 0 |
| Inventory Management | 0 |
| Wound Treatment | 0 |
| Surgery | 0 |
| First Aid | 0 |
| Engineer | 0 |
| Persuasion | 0 |
| Prisoner Management | 2 |
| Leadership | 6 |
| Trade | 0 |
Proficiencies

| Weapon Type | Points |
| --- | --- |
| One Handed Weapons | 0 |
| Two Handed Weapons | 0 |
| Polearms | 190 |
| Archery | 190 |
| Firearms | 190 |
| Throwing | 190 |