Ichamur

Type

Kingdom

Ladders

Port

No
Ichamur is a town of the Khergit Khanate. Its initial lord is Tonju Noyan.
Territory
Edit
Mount&Blade
Edit
Its villages are Ada Kulun and Dirigh Aban.
Besieging Ichamur requires the construction of Ladders (2 hours with 10 engineering skill).
Tournaments
Edit
If you take part in a Tournament in Ichamur, you can be given any of the following sets of equipment:
Javelin & Shield
Bow & Arrows, Dagger
Lance & Shield
All contests start mounted on a Horse.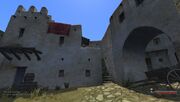 Ichamur sells Salt for a low price.
Ichamur produces:
The Guild Master in Ichamur can be located by walking straight forward after selecting 'Take a walk around the streets' and then going up the stairs slightly to the player's right.
The area around Ichamur is often covered in Steppe Bandits. As such, it is quite dangerous for traders and will often be among the "most affected by bandits" and "least visited" in Calradia.