Ibdeles

Type

World Map
Ibdeles is a village of Ibdeles Castle, initially owned by the Kingdom of Rhodoks.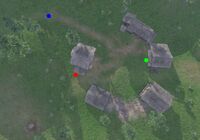 The
Village Elder
is located almost directly forward from where the player enters, in front of a bench on the far side of the village.
Ibdeles is set in a deep valley surrounded on all sides with steep hills and scattered pines. It has a total of five structures and a well. A single field can be found between two buildings, though the presence of water troughs suggests it is intended for animals. There are some Wine jugs stored in a shed and a few sacks propped against a wall which may contain Grain, but no other food sources can be seen here.
If sent here during a Hunt down fugitive quest, the target may be found on the other side of the building to the right from where the player starts.