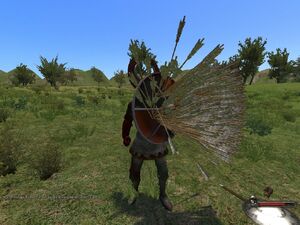 The Huscarl's Round Shield is one of the highest quality shields available, boasting great durability, resistance, and size. While shield speed typically goes down as quality goes up, the average speed of this shield can be considered quite good. This shield can also be used on horseback, unlike the massive Board Shields.
While the Huscarl's Round Shield can be bested in all of its individual stats by other shields, overall it is one of the best shields available. However, these attributes do not come without cost, as it is the second most expensive shield in the game, beaten only by the Steel Shield.
Nevertheless, shields are one of the most important pieces of a troop's defense, and this shield can easily prove to be worth the investment, even to poorer adventurers. The Huscarl's Round Shield can receive Modifiers.
| Shield | Durability | Weight | Resistance | Size | Speed | True Value |
| --- | --- | --- | --- | --- | --- | --- |
| | 410 | 4.5 | 19 | 100 | 81 | 430 |
Ad blocker interference detected!
Wikia is a free-to-use site that makes money from advertising. We have a modified experience for viewers using ad blockers

Wikia is not accessible if you've made further modifications. Remove the custom ad blocker rule(s) and the page will load as expected.