Ivan Vygovsky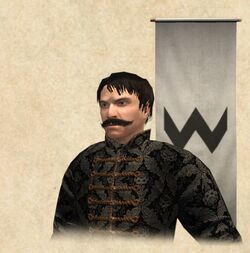 Headquarters Clerk Ivan Vygovsky is initially a vassal of the Cossack Hetmanate.
He begins the game as ruler of Kamenets. He has a unique retinue of Rank Cossacks.
Vygovsky is based on an actual person, Ivan Vyhovsky, who succeeded Bohdan Kymelnytsky as hetman of the Ukrainian Cossacks. Vyhovsky ruled from 1657-1659. He went to war against the Muscovite Tsardom, which he successfully conducted, but the opposition forced him to resign Hetman. He was succeeded by the son of Bohdan Khmelnitsky, Yurii.
Ad blocker interference detected!
Wikia is a free-to-use site that makes money from advertising. We have a modified experience for viewers using ad blockers

Wikia is not accessible if you've made further modifications. Remove the custom ad blocker rule(s) and the page will load as expected.