Ivan Vygovsky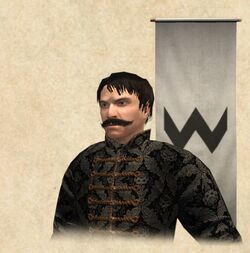 Headquarters Clerk Ivan Vygovsky is initially a vassal of the Cossack Hetmanate.
He begins the game as ruler of Kamenets. He has a unique retinue of Rank Cossacks.
Vygovsky is based on an actual person, Ivan Vyhovsky, who succeeded Bohdan Kymelnytsky as hetman of the Ukrainian Cossacks. Vyhovsky ruled from 1657-1659. He went to war against the Muscovite Tsardom, which he successfully conducted, but the opposition forced him to resign Hetman. He was succeeded by the son of Bohdan Khmelnitsky, Yurii.