Hanun

Type

World Map
Hanun is a village initially owned by the Kingdom of Vaegirs.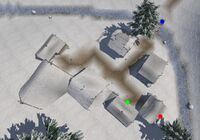 The
Village Elder
is located forward into the village center and to the left from where the player enters, standing near a group of barrels.
Hanun is next to a narrow stream in a slightly hilly area with a few scattered evergreens. It has a total of seven structures within the village. There is one fenced-in area that is empty save a snowy covering, whether an animal pen or crop field cannot be discerned. The presence of fishing nets are the only obvious sign of a food source.
If sent here during a Hunt down fugitive quest, the target may be found behind one of the buildings on the left side of the village from where the player enters, near a lone tree.