Apples / Fruit

Base Value

Weight

20.0

Food Quantity

50

Spoils

No

Made From...

N/A

Made Into...

N/A
Fruit is a food item that provides a moderate morale bonus. This item is called Apples in the original game and in With Fire & Sword. Fruit is very cheap and ideal for low level players.
Apple trees can be found in a few villages.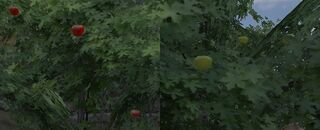 Ad blocker interference detected!
Wikia is a free-to-use site that makes money from advertising. We have a modified experience for viewers using ad blockers

Wikia is not accessible if you've made further modifications. Remove the custom ad blocker rule(s) and the page will load as expected.