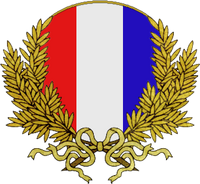 France, or Empire Français, is a faction in the Mount&Blade: Warband downloadable content, Napoleonic Wars.
Background
Edit
Led by Napoleon Bonaparte himself, the French Empire in 1812 is the most powerful continental state in Europe. Two decades of Revolutionary and Napoleonic warfare have strengthened her huge armies and expanded her borders and spheres of political influence.
In 1812 the French armies fight all across the continent - from the mountains of Portugal to the endless steppes of Russia. The French tricolour was already raised over Berlin, and Vienna has been captured - for the first time in the city's history. All major European nations have already suffered defeats against Bonaparte's Grande Armée, but the widely stretched French nation is now literally surrounded by the enemies. France will have to battle against the whole of Europe. Again...
Infantry
45e Regiment d'infanterie de ligne - Line Infantry
84e Regiment d'infanterie de ligne - Line Infantry
Legion de la Vistule - Line Infantry
2. Linien-Infanterie-Regiment Kronprinz, Bayern. - Line Infantry
1er Régiment de Grenadiers á pied de la Garde Impériale - Guard Infantry
15eme Regiment d'infanterie Ligere - Light Infantry
Cavalry
2e Regiment de Hussards - Hussar
Regiment de Chevau-Legers Lancers de la Garde - Lancer
Regiment de Dragons de l'Imperatrice - Dragoon
9eme Regiment de Cuirassiers - Cuirassier
1er Regiment de Carabiniers - Carabinier
Regiment de Grenadiers a Cheval de la Garde - Heavy Cavalry
Specialists
L'Artillerie - Artillery
Sappeur - Engineer
Ship Crew - Infantry (Intrepide)
L'Empereur Napoleon Bonaparte - Commander
Youtube Gameplay Video
Edit
Mount & Blade Napoleonic Wars - Part 2: Attack Of The Frogs
Ad blocker interference detected!
Wikia is a free-to-use site that makes money from advertising. We have a modified experience for viewers using ad blockers

Wikia is not accessible if you've made further modifications. Remove the custom ad blocker rule(s) and the page will load as expected.