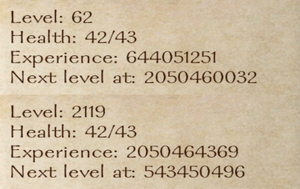 Experience is the variable that depicts a character's knowledge of combat and the land of Calradia. You and your troops can gain experience by fighting battles, completing quests, or Training. When defeating an enemy in battle, the amount of experience received depends on the level of the enemy. Higher-tier enemies are higher level, and thus give more experience than lower ones. Note that Lords and Monarchs are often on very high levels and give even more experience.
Upon reaching a certain amount of Experience, you level up. Every time you level up, you gain a skill point and a stat point that you can use to upgrade your character (or heroes, if they are the ones who level up).
The required experience for any Heroes or the player character to gain a level is displayed on the character's individual skills screen.
Rather than automatically levelling up, standard troops will remain in their current form even after gaining enough experience to gain a level. Troops that can be promoted gain a + symbol next to their name. This is free in the original Mount&Blade, but in Warband and With Fire & Sword, you have to pay a few denars/thalers. Higher-tier troops also have higher wages than lower-tier ones.
The maximum level is 62 due to an overflow glitch that occurs at 63. However, the amount of experience needed per level escalates rapidly after level 59, which makes achieving this level without cheating extremely difficult.
The troop experience formula is different from heroes: it uses the xp requirement from troop level + 3, then multiplies it by 0.6% and adds a flat 30. The result is then doubled for bandit troops.
Experience table
Edit
| Level | Experience | Difference |
| --- | --- | --- |
| 1 | 0 | 0 |
| 2 | 600 | 600 |
| 3 | 1,360 | 760 |
| 4 | 2,296 | 936 |
| 5 | 3,426 | 1,130 |
| 6 | 4,768 | 1,342 |
| 7 | 6,345 | 1,577 |
| 8 | 8,179 | 1,834 |
| 9 | 10,297 | 2,118 |
| 10 | 13,010 | 2,713 |
| 11 | 16,161 | 3,151 |
| 12 | 19,806 | 3,645 |
| 13 | 24,007 | 4,201 |
| 14 | 28,832 | 4,825 |
| 15 | 34,362 | 5,530 |
| 16 | 40,682 | 6,320 |
| 17 | 47,892 | 7,210 |
| 18 | 56,103 | 8,211 |
| 19 | 65,441 | 9,338 |
| 20 | 77,233 | 11,792 |
| 21 | 90,809 | 13,576 |
| Level | Experience | Difference |
| --- | --- | --- |
| 22 | 106,425 | 15,616 |
| 23 | 124,371 | 17,946 |
| 24 | 144,981 | 20,610 |
| 25 | 168,636 | 23,655 |
| 26 | 195,769 | 27,133 |
| 27 | 226,879 | 31,110 |
| 28 | 262,533 | 35,654 |
| 29 | 303,381 | 40,848 |
| 30 | 350,164 | 46,783 |
| 31 | 412,091 | 61,927 |
| 32 | 484,440 | 72,349 |
| 33 | 568,974 | 84,543 |
| 34 | 667,638 | 98,664 |
| 35 | 782,877 | 115,239 |
| 36 | 917,424 | 134,547 |
| 37 | 1,074,494 | 157,070 |
| 38 | 1,257,843 | 183,349 |
| 39 | 1,471,851 | 214,008 |
| 40 | 1,721,626 | 249,775 |
| 41 | 2,070,551 | 348,925 |
| 42 | 2,489,361 | 418,810 |
Level
Experience
Difference
43
2,992,033
502,672
44
3,595,340
603,307
45
4,319,408
724,068
46
5,188,389
868,981
47
6,231,267
1,042,878
48
7,482,821
1,251,554
49
8,984,785
1,501,964
50
11,236,531
2,251,746
51
14,051,314
2,814,783
52
17,569,892
3,518,578
53
21,968,215
4,398,323
54
27,466,219
5,498,004
55
34,338,823
6,872,604
56
42,929,679
8,590,856
57
53,668,349
10,738,670
58
67,091,786
13,423,437
59
83,871,183
16,779,397
60
160,204,600
76,333,417
61
320,304,600
160,100,00
62
644,046,000
323,741,400
63
N/A