Epeshe

Type

World Map
Epeshe is one of the villages initially owned by the Kingdom of Rhodoks.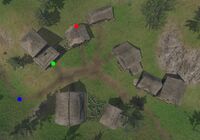 The
Village Elder
is located in front of the first building to the left from where the player enters, next to a stool under an overhang.
Epeshe is built in a relatively flat area surrounded on all sides by hills and valleys dotted with tall trees. It has a total of seven structures. Two fenced-in fields are growing squash and cabbages. The presence of multiple wagons with several extra wheels and a large amount of wood stockpiled may suggest carpentry as the village's primary source of revenue.
If sent here during a Hunt down fugitive quest, the target may be found behind the building next door to the village elder.