Emir Uqais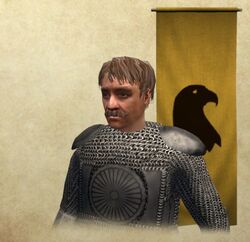 Emir Uqais is the default lord of Durquba for the Sarranid Sultanate.
Spouse: Lady Rayma
Children: Emir Amdar, Lady Thanaikha

Note: Certain aspects of most NPCs are randomly generated at the beginning of every new game. These include all family lines other than parents, children, or siblings; personalities; and initial fief ownership.
By default, Emir Uqais carries the same banner as the Sarranid Sultanate claimant, Arwa the Pearled One. In the banner selection screen, both come up as if they are different banners, but this is simply a coding issue.
Ad blocker interference detected!
Wikia is a free-to-use site that makes money from advertising. We have a modified experience for viewers using ad blockers

Wikia is not accessible if you've made further modifications. Remove the custom ad blocker rule(s) and the page will load as expected.