Emir Tilimsan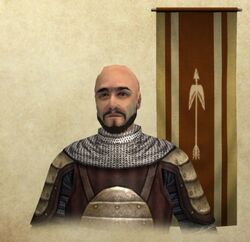 Emir Tilimsan is a lord of the Sarranid Sultanate.
You may fight him or join him if you decide to overthrow Sultan Hakim in place for the corresponding claimant, Arwa the Pearled One.
Parents: Emir Ghanawa, Lady Dula
Siblings: Lady Ruwa

Note: Certain aspects of most NPCs are randomly generated at the beginning of every new game. These include all family lines other than parents, children, or siblings; personalities; and initial fief ownership.