Emir Raddoun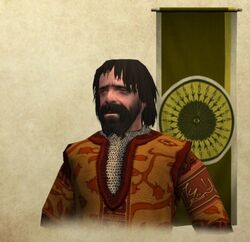 Emir Raddoun is a lord of the Sarranid Sultanate. He may fight you or join you if you attempt to replace Arwa the Pearled One as the Sarranid liege.
Parents: Emir Mundhalir, Lady Ifar
Siblings: Lady Yasmin

Note: Certain aspects of most NPCs are randomly generated at the beginning of every new game. These include all family lines other than parents, children, or siblings; personalities; and initial fief ownership.
When being given the "Denounce Lord" quest, when confirming your success, Emir Raddoun will specify himself being the one denounced, not the actual denouncee. This is clearly a bug.