Emir Ghanawa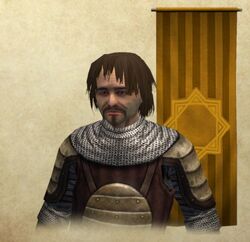 Emir Ghanawa is a lord of the Sarranid Sultanate. You may fight him or have him on your side as you overthrow Sultan Hakim for Arwa the Pearled One.
He tends to have one of the larger armies, usually around 70-120 soldiers.
Spouse: Lady Dula
Children: Emir Tilimsan, Lady Ruwa

Note: Certain aspects of most NPCs are randomly generated at the beginning of every new game. These include all family lines other than parents, children, or siblings; personalities; and initial fief ownership.