Dumar

Type

World Map
Dumar is one of the villages initially owned by the Kingdom of Rhodoks.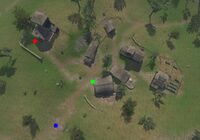 The
Village Elder
is located in almost directly in front of where the player enters, next to a bench and a table with cups on it.
Dumar is built on hilly terrain with many tall trees around it. It has a total of seven structures as well as some stone and wood walls around parts of the border. There are two fields growing cabbages, grapes, and squash. There is also an oven here for baking bread.
If sent here during a Hunt down fugitive quest, the target may be found up the hill to the player's left from the entry point, standing out in the open in front of the large building at the top.