Ivan Bogun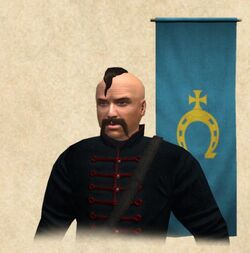 Colonel Ivan Bogun is initially a vassal of the Cossack Hetmanate. He begins the game as the lord of Bratslav.
Ivan Bogun is based on Ivan Bohun, the Cossack soldier who is one of the primary antagonists in Henryk Sienkiewicz's novel, With Fire and Sword.
He has a unique retinue of Rank Cossacks.
Ad blocker interference detected!
Wikia is a free-to-use site that makes money from advertising. We have a modified experience for viewers using ad blockers

Wikia is not accessible if you've made further modifications. Remove the custom ad blocker rule(s) and the page will load as expected.