Chelez

Type

World Map
Chelez is a village of Yalen in classic Mount&Blade and Jelkala in Warband, initially owned by the Kingdom of Rhodoks.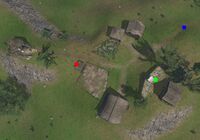 The
Village Elder
is located up the hill to the left from where the player enters, standing in front of an awning covered table and benches.
Chelez is located in very hilly territory with moderate tree cover. It has a total of six structures, including a windmill at the top of a steep ridge. There are three fields here, two growing squash and one that is cleared with only heaps of straw remaining which, considering the mill, may be a harvested wheat farm. There are also several strings of garlic hanging on the side of one of the buildings. A large number of wagons and wheels can also be seen here, which could indicate carpentry as an industry from the village.
If sent here during a Hunt down fugitive quest, the target may be found behind the shed next to the harvested field.