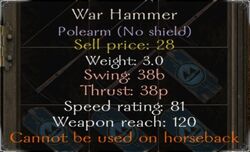 Cannot be used on horseback is a trait given to various oversized melee weapons, Crossbows, as well as the Board Shields, which disallows them to be used from horseback.
In the case of Crossbows, this designation indicates that they actually can be shot from horseback, but can only be reloaded while dismounted. However all weapons can still be equipped, meaning a horse could be used purely for mobility and then dismounted to use the full array of heavy weapons.
Weapons with this trait
Edit
Mount&Blade/Warband
Edit
With Fire & Sword
Edit
Ad blocker interference detected!
Wikia is a free-to-use site that makes money from advertising. We have a modified experience for viewers using ad blockers

Wikia is not accessible if you've made further modifications. Remove the custom ad blocker rule(s) and the page will load as expected.