Bulugha Castle

Type

Kingdom

Ladders

Port

No
Bulugha Castle is a castle belonging to the Kingdom of Vaegirs. It is featured in both Mount&Blade and Warband.
Mount&Blade
Edit
Bulugha Castle lies west of Rivacheg at the edge of the Vaegir territory and the Kingdom of Nords.
Its village is Fisdnar which is to the northeast, near the northern oceanic shoreline.
Bulugha Castle lies west of Rivacheg in along the oceanic coast. It is on the border with the Kingdom of Nords and in Warband, is the northernmost castle on the map.
Its village is Udiniad which is nearby to the east, within a small patch of trees.
Besieging Bulugha Castle requires the construction of Siege Ladders, needing 2 hours of preparation with 10 Engineer.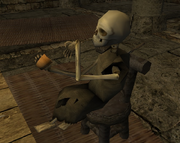 There is a skeleton sitting at the table in the lord's hall with a cup in its hand and a knife in its back, possibly hinting that whoever the previous owner of the castle was met a sticky end.