Bariyye

Type

Kingdom

Ladders

Port
Bariyye is a town that is initially owned by the Sarranid Sultanate.
Territory
Edit
Its villages are Fishara and Iqbayl.
Besieging Bariyye requires the construction of Siege Ladders.
Tournaments
Edit
If you take part in a Tournament in Bariyye, you can be given any of the following pieces of equipment:
Sword & Shield
Heavy Sword
Bow & Arrows, Dagger
Javelins & Shield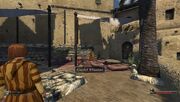 Bariyye produces:
Bariyye buys Smoked Fish, Grain, and Wine high, while it sells Dates, Dyes, Pottery, Salt, and Spice low.
The Guild Master in Bariyye can be found standing outside of the tavern. He is most easily reached by going to the tavern, then leaving by the door instead of the tab key, at which point he will be directly in front of the player.
Ad blocker interference detected!
Wikia is a free-to-use site that makes money from advertising. We have a modified experience for viewers using ad blockers

Wikia is not accessible if you've made further modifications. Remove the custom ad blocker rule(s) and the page will load as expected.