Algirdas
Born in
Vilna
Found in
A random town owned by a random faction except the player's faction and the Muscovite Tsardom (Lviv if no towns)
Hire cost
250 thalers
Likes
Dislikes
Disliked by
Disapproves (aristocratic)
Algirdas is one of the Heroes in With Fire & Sword. He is similar to Alayen of the previous games.
He likes Ingri, dislikes Fedot and Nogai, is disliked by Ingri, Karlsson and Sarabun, and disapproves of retreating.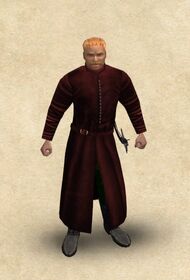 "My most humble apologies. Allow me to introduce myself -- I am Algirdas. My family name I would prefer to keep secret."
"My ancestor received his title from the Grand Prince Algirdas at the end of the XIV century. For military valor he were granted vast lands near the town of Bryansk. Since that day all the eldest sons in our family bear his name. Our house served the Grand Duchy of Lithuania faithfully for three centuries, while our borderlands were always an apple of discord between Lithuania and Moscow. Our estate slowly fell into decay, yet we still remained their masters. However, recently the Moscow Tsar gave it to one of his nobles."
"All I have left is my grandfather's sword and my knightly honor."
Stats and equipment
Edit
Algirdas - Default Stats and Equipment
Attributes

| Stat | Points |
| --- | --- |
| Level | 4 |
| Strength | 7 |
| Agility | 8 |
| Intelligence | 10 |
| Charisma | 10 |
| Health | 44 |
Skills

| Skill | Points |
| --- | --- |
| Ironflesh | 1 |
| Power Strike | 1 |
| Grenade Throwing | 0 |
| Power Draw | 0 |
| Weapon Master | 0 |
| Shield | 0 |
| Athletics | 1 |
| Riding | 2 |
| Shooting from Horseback | 0 |
| Looting | 0 |
| Trainer | 0 |
| Tracking | 0 |
| Tactics | 2 |
| Path-finding | 0 |
| Spotting | 0 |
| Inventory Management | 0 |
| Wound Treatment | 0 |
| Surgery | 0 |
| First Aid | 0 |
| Engineer | 0 |
| Persuasion | 0 |
| Prisoner Management | 0 |
| Leadership | 4 |
| Trade | 0 |
Proficiencies

| Weapon Type | Points |
| --- | --- |
| One Handed Weapons | 70 |
| Two Handed Weapons | 70 |
| Polearms | 70 |
| Archery | 70 |
| Firearms | 70 |
| Throwing | 70 |