Ahmerrad

Type

Kingdom

Ladders

Port

No
Ahmerrad is a town of the Sarranid Sultanate. By default, it is fief to Emir Hamezan.
Territory
Edit
Its villages are Mawiti, Mijayet, and Uzgha.
Besieging Ahmerrad requires the construction of Siege Ladders.
There is also a destructible door, which the player can break through to get behind the enemies, on the left side of the ladder, close to the edge of the playable area.
Tournaments
Edit
If you take part in a Tournament in Ahmerrad, you can be given any of the following sets of equipment:
Lance & Shield
Sword & Shield
Heavy Sword
Javelins & Shield
Bow & Arrows, Dagger
All players will have a Turban, Arena Tunic of team colour and Hide Boots. The players will always have a Practice Horse.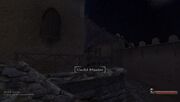 Ahmerrad sells Iron and Pottery cheaply.
Ahmerrad produces:
The Guild Master in Ahmerrad can be located by looking behind the player when 'Take a walk around the streets' is selected. He is most easily spoken to by running along the stone dyke that his terrace is built on and talking to him over the fence.
Ad blocker interference detected!
Wikia is a free-to-use site that makes money from advertising. We have a modified experience for viewers using ad blockers

Wikia is not accessible if you've made further modifications. Remove the custom ad blocker rule(s) and the page will load as expected.