Aetheling Aelfred Aethelwulfing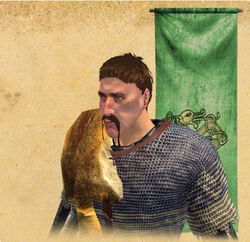 Aetheling Aelfred Aethelwulfing is a vassal of the Kingdom of West Seaxe. He starts as the lord of Witan Ceaster. He plays a major part in the storyline campaign if the player has sided with the Saxons.
He is the younger brother of the king, Brytenwalda Aethelred Aethelwulfing, and also the uncle of Aetheling Ceorl, who is the claimant.
Wife: Ealswith
Ad blocker interference detected!
Wikia is a free-to-use site that makes money from advertising. We have a modified experience for viewers using ad blockers

Wikia is not accessible if you've made further modifications. Remove the custom ad blocker rule(s) and the page will load as expected.